M

iguel Miranda Vicente, the founder of this bookshop, lived an intense and varied life. Leaving aside a boyhood and youth full of interesting anecdotes, we join Miguel's story in post civil war Spain, a time when many people were forced to rethink their lives. At this time, Miguel began to work as an actor in the Teatro Español of Madrid, as he had already come into contact with some of the company's most prominent members and was, after all, quite a character with a talent for the performing arts. Such was his talent that he became a regular cast member for almost ten years, during which time he participated in several national tours and even had the odd role in film, such as in José Luis Sáenz de Heredia's La Mies es Mucha (The Harvest is Rich - 1948) where he played Panja. However, in the midst of such a whirlwind life, Miguel ("Prince Bolinsky" to his friends) never relinquished his one true passion: books. He would always find a quiet corner where he could forget his cares and get down to reading a good book; he read everything, almost devouring the pages, and acquired a vast knowledge of literature.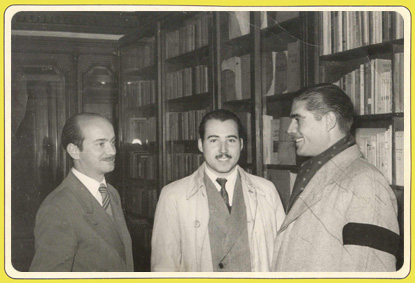 First Miguel Miranda Bookshop
17 Prado Street


It was this passion –coupled with the demanding life of an actor– that helped him decide the new direction his life would take after he got married: a bookseller. In 1949 he opened for business, initially selling his own collection, in 17 Calle del Prado, next to the Ateneo cultural association. Needless to say, he popped next door whenever he could for a chat and to debate on a wide range of subjects. As a frequent participant in the tertulia literary meetings that had taken place in Pio Baroja's home, Miguel moved in the same circles as the intellectuals of the time, many of whom would visit him in his bookshop, which was to become a meeting point for academics, writers, professors and a set almost as diverse and curious as the books that he sold from this small literary cubicle. Without a doubt, he was a character: culture buff, bohemian, intellectual and somewhat eccentric - one of a kind by any definition.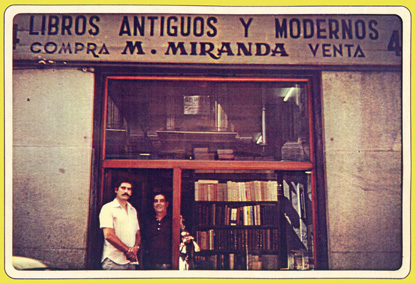 Second Miguel Miranda Bookshop
4 Lope de Vega Street


Later, as the business became more successful, Miguel moved the shop to number 4 Calle Lope de Vega in search of more space. And space he found... This shop deserves a special mention as it was like some mysterious crypt of culture. There were really two floors, the ground floor and a basement, but the former (more than 5 metres high) had been subdivided using shelves and wooden flooring, and had false walls lined with books and dark passageways with dead ends. It was not unusual to hear the muted voices of clients lost among piles of old volumes, hypnotised by the sight before their eyes. On top of everything else, Miguel was an active champion of spiders; as he himself said "these creatures are the sworn enemies of xylophagous insects and friends to the gnomes", so cobwebs were allowed to proliferate. There were harlequins, puppets and strange dolls hanging from the ceiling, in addition to a bust of Seneca, scattered papers and an old Spanish 18th Century oak table –home to an antiquated Remington typewriter with dryly clacking keys–. That was the first, amazing vision that awaited visitors the moment they walked through the door.
The basement was a forbidden territory that almost nobody visited for years. The old, creaky stairs that led down to it were lined with wooden boards nailed into the planks that lined the walls to prevent damage from damp, which, however, engendered a vaguely unsettling aura. Its interior housed tall shelves, full of boxes, symmetrically aligned on the cold stone floor that gave it the air of some bibliographic wine cellar; the yellowish light afforded by a few bulbs was barely sufficient to produce a mesmeric dance of shadows that created an unrepeatable atmosphere. To complete the picture, we could add that the bathroom, service stairs, the back room, indeed every nook and cranny was full to bursting with books, whether on the floor or on improvised shelves that used up any previously empty space. In short, it was the bookshop of a person who simply adored his work.

Miguel's son, Miguel Miranda Miravet, worked with his father for some time as a helper and disciple. In 1980 he opened his own shop not far away in Calle San Pedro, 7. He became a pioneer when he computerised his inventory on his 8 MHz, 640 Kb RAM, 20 MB hard disc PC, which was state-of-the-art at the time. On the death of his father, the founder, in 1997, it was Miguel junior who took charge of the whole business in close collaboration with his wife, Pilar Barrientos Diez de Oñate. With the new millennium, the shop changed premises, returning to Calle Lope de Vega –this time to number 19– which is Librería Miguel Miranda's current location. Father and son had purchased this premises years previously because the location caught their eye: it is just opposite the commemorative stone dedicated to Cervantes. Indeed, the front door of the bookshop looks out on the walls of the Trinitarias Descalzas Convent –the 17th Century national historic monument where this illustrious author is buried–; in fact, the memorial stone is exactly opposite the shop entrance. The bookshop is located in the area known as the Barrio de las Letras, the Literary Quarter, which was home to famous writers such as Cervantes, Lope de Vega, Quevedo and Moratín.


To this day it is Miguel Miranda Barrientos, grandson of the original founder and third generation of booksellers, who takes charge of the business. His big goal, he says, is that the bookstore should be at least a hundred years old.

Third Miguel Miranda Bookshop
7 San Pedro Street